The BLACKPINK member, Jisoo, was confused for one of her teammates, Lisa, on a gala for Dior, the brand she's promoting on the Paris Fashion Week.
The event took place last Tuesday, 27th of September, on Paris, France, amid the Paris Fashion Week, which was studded with other Korean celebrities, such as BLACKPINK member, Rosé, who is promoting Saint Laurent and Cha Eun Woo, from ASTRO, who joined Jisoo promoting Dior.
In the event, Jisoo had the opportunity to meet and chat with world class celebrity Natalie Portman, who posted a picture of the moment she spent with the Korean singer. Here's a screenshot of the post.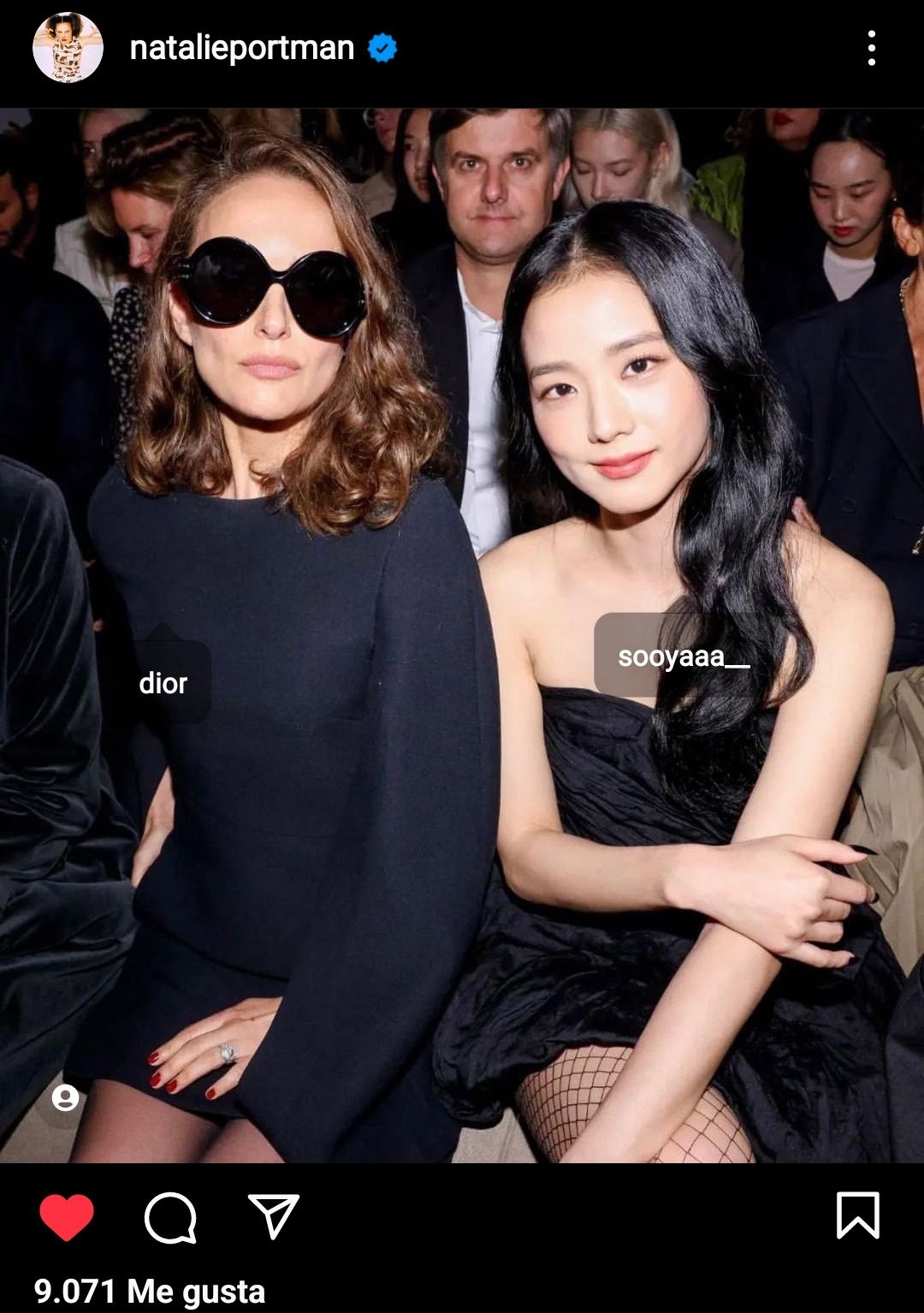 The misunderstanding with the "Lovesick Girls" interpreter happened on a reunion with Dior CEO, Pietro Beccari, in the main event of the gala. While they were posing together for the photos, a photographer shouted "Lalisa?", asking for the attention of who he thought was Lisa, another Blackpink member who apparently, he confused Jisoo for. Jisoo heard the name and quickly turned around and corrected the paparazzi with a gentle "Oh, I'm Jisoo, I'm Jisoo".
Here's a link to the video of the situation, you may need to use headphones or a high volume to be able to hear the paparazzi, and you can also speed the video to the 0:07 second of the video.
📹 JISOO com Pietro Beccari (CEO da Dior) no show #DiorSS23.

LADY JISOO WITH DIOR#JISOOxDiorPFW pic.twitter.com/rVWOW4gczM

— PORTAL JISOO (@PortalJisoo_) September 27, 2022
It's also worth mentioning that this is not the first time that this has happened, in the past, international paparazzi's have confused Rosé for Lisa, and Lisa for Jennie, even though they are all part of the same girl band and aren't really that alike. It's rumored that paparazzi do this intentionally to get a reaction from the singers, to generate a controversy to take advantage of.
About their music activities, BLACKPINK is breaking records at the moment with their latest project, "BORN PINK", a brand-new album, and two viral singles, "Pink Venom" and "Shut Down", here you can find out which records they now share with Justin Bieber and Olivia Rodrigo.
What's your Reaction?
LOVE
OMG!
HAPPY
CRYING
ANGRY
ZZZ